Opportunities in our Community!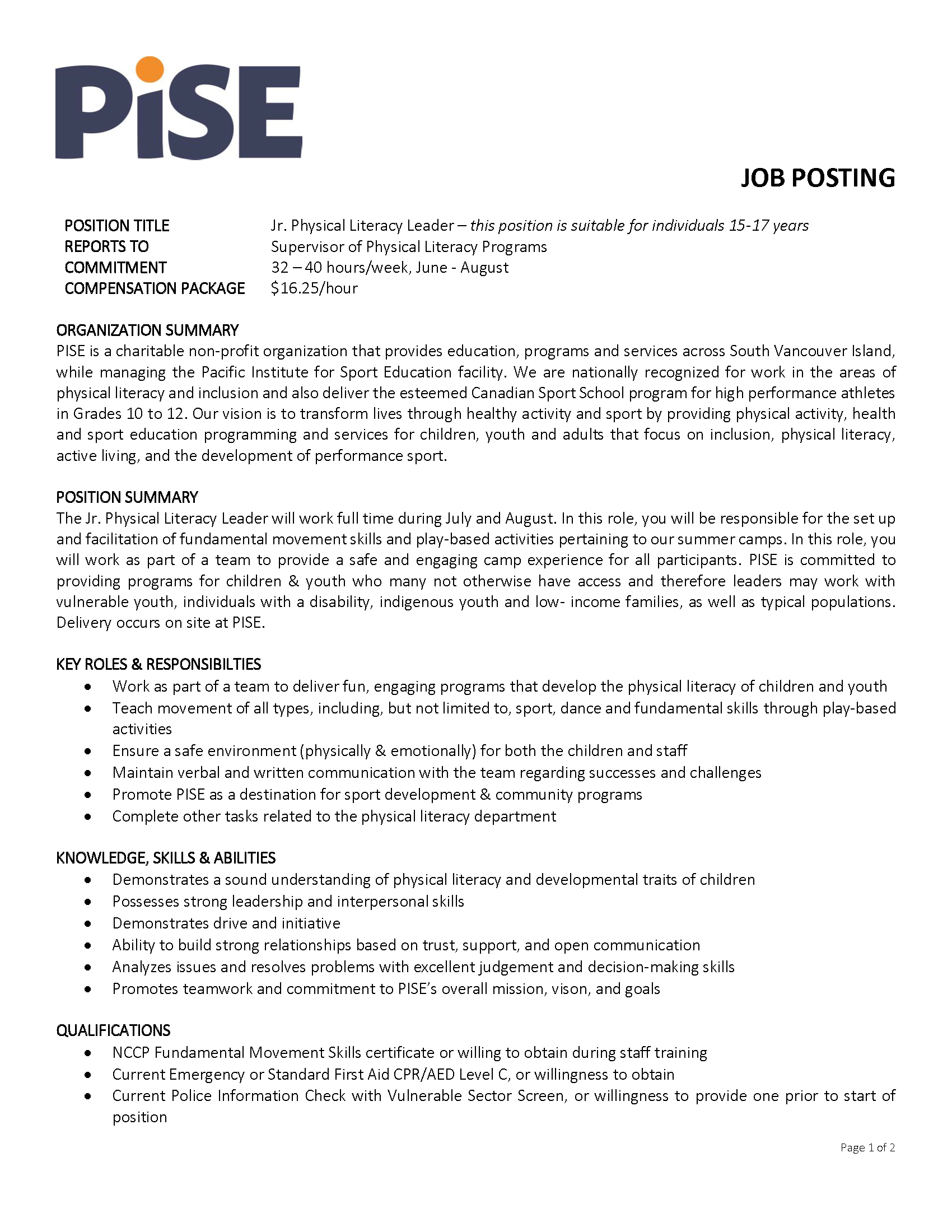 Phil Smith Roofing.
We are family owned & operated Roofing Company in business for over 25+ years here in Victoria.
Two Opportunities 
Career Oriented – Ideally in a perfect world we find someone who is interested in looking at Roofing as a career. Starting on ground clean up and mentor/train into roofing apprentice and then journeyman roofer.
Summer employment – committing to ground clean up and some additional skill training for someone who is a quick study for the summers
Requirements:
Motivated and enthusiastic
Willingness to learn and follow simple instructions
Reliability
Ability to work in an outdoor environment
Ability to carry, lift and be comfortable and capable of physical exertion
Even Better but not required:
Has a valid drivers license
Has previous construction experience
Has OFA Level 1
Starting Wage $22/hr could expect more with valid experience OR skill progression the candidate builds their skill level.
Send resume and questions to Melanie at noleaks@shaw.ca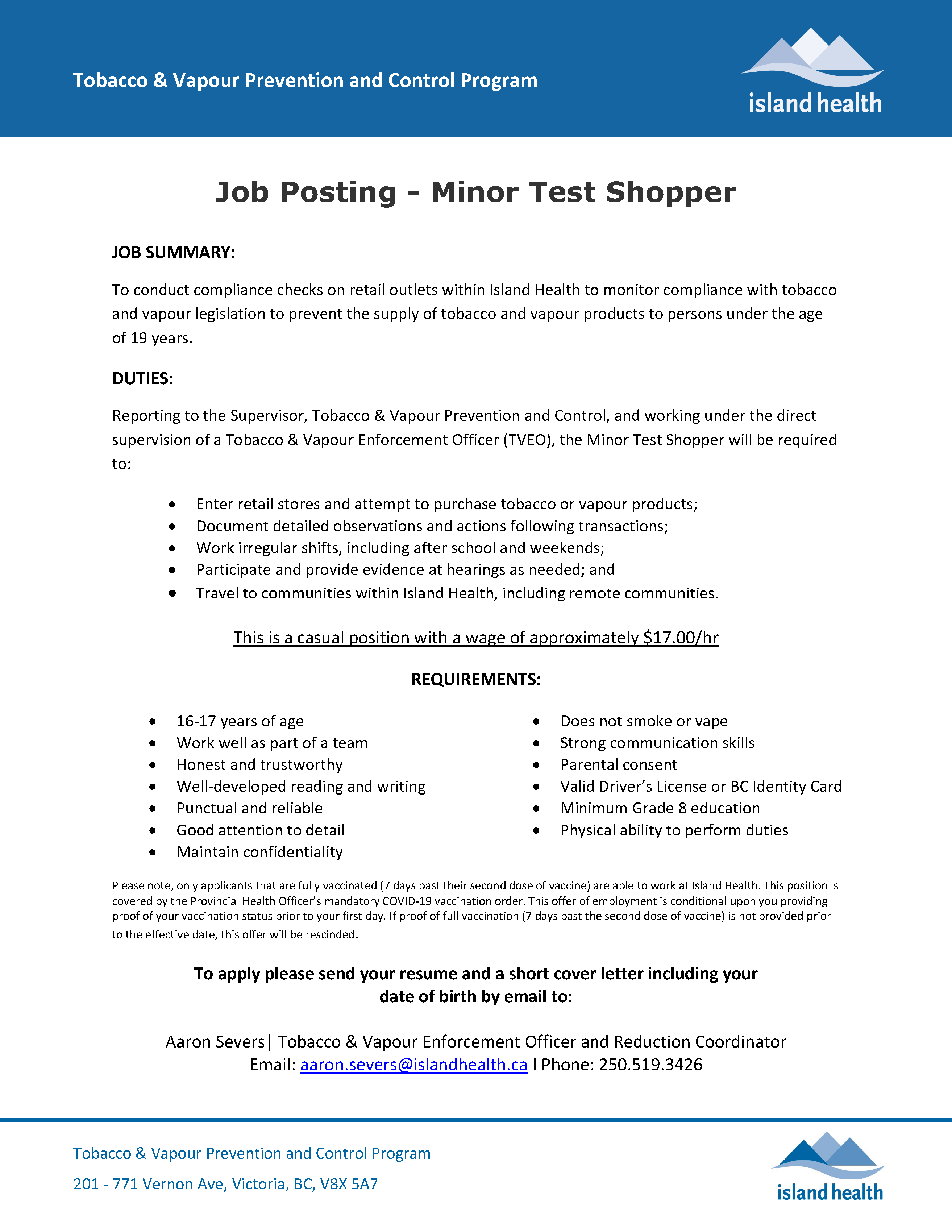 Cultural Ambassador
Dates: Group 1 – March 20 – 24
Group 2 – March 21 – 29
Group 3 – March 24 – 28
St. Michaels University School (SMUS) is a Kindergarten to Grade 12 co-educational day and boarding school with a global reputation for academic excellence.
SMUS Camps delivers customized school group programs that expose international students to Canadianculture and Vancouver Island while also improving their English language communication skills. In
March 2023, we will be welcoming three Japanese school groups and we are looking for SMUS students
to work as Student Ambassadors.Students can receive paid compensation or volunteer hours.
Position Summary:
Student Ambassadors will work as language partners and peer support in a classroom environment.
Focusing on building positive relationships with international students, by engaging with, and helping
students with their projects and assignments.
Key Responsibilities & Expectations:
● supporting and collaborating with students on projects and assignments
● engaging with students throughout the day
● offering language support and practice
● establishing a positive environment and focus on creating positive relationships with students
Qualifications:
● must be 14 years of age or older and legally allowed to work in Canada
● strong communication and interpersonal skills.
● responsible, mature and reliable
● outgoing – comfortable working in large groups and in one-on-one settings with students
To apply for this position please complete this application form.
Employment opportunities at the Empress!
Click on the poster to email a resume to the Beacon Drive-in Restaurant!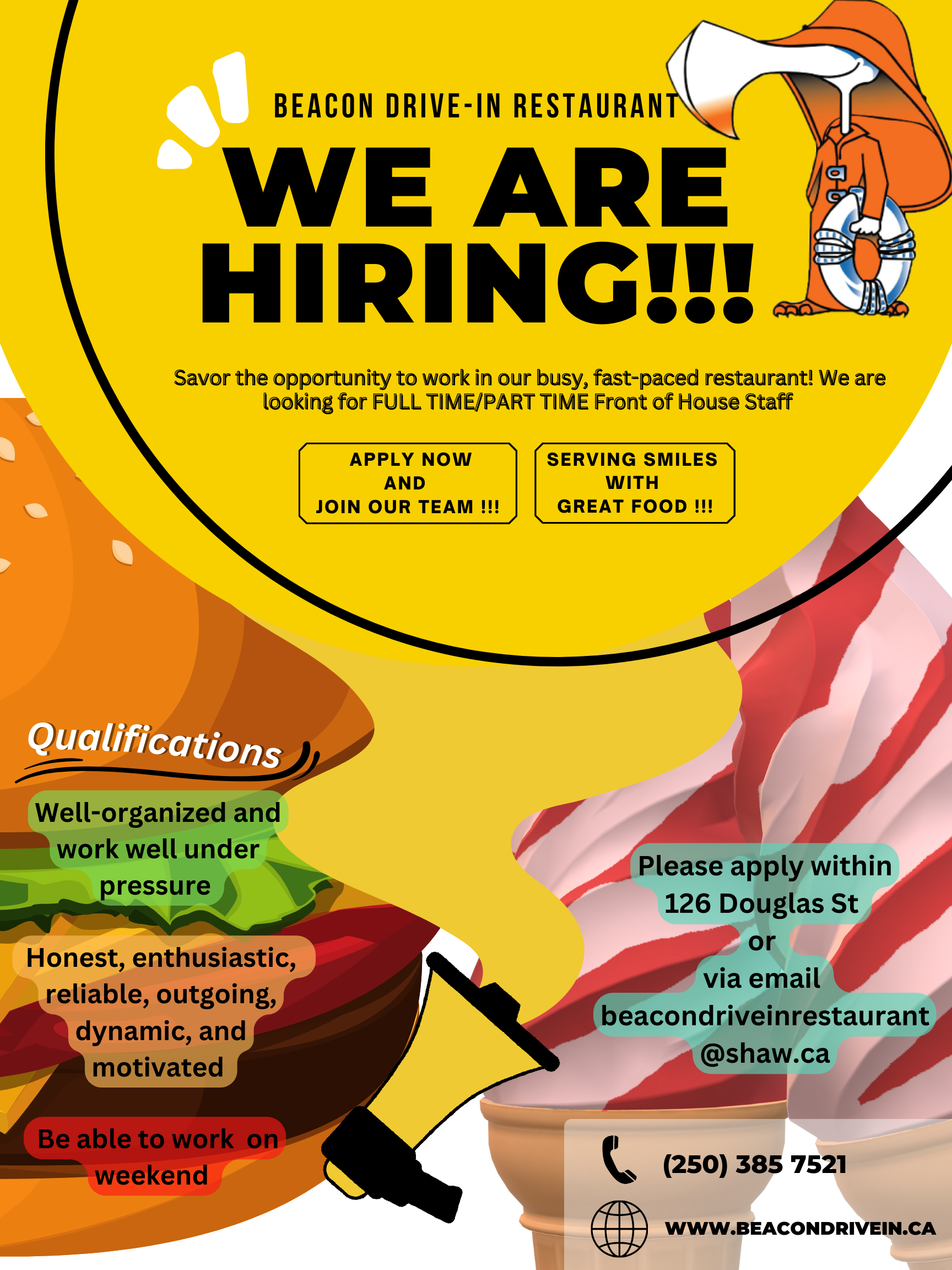 Are you interested in working for a company that go paintballing every quarter , out for dinners , lunches, has morning safety meetings designed to get people awake and having fun? this may be the opportunity for you!
At WOW 1 DAY PAINTING you will work on:
Painting
Building self confidence
Drywall repairs
Interior , exterior painting
 The importance of being on-time
Small hand tools use
Spraying instruction
How to work as a team to accomplish our goals and everything else that goes with the industry.
We use big crews to complete impossible tasks in just 1 day.
For more info and to apply, contact Andrew Comstive

Youth Work in Trades Program Opportunities!
These are opportunities that allow youth interested in trades to get paid experience in trade industries of interest with support from the Industry Trade Authority and SD61's Pathway and Partnership department.  These placements focus on milestones for youth to achieve, have safety protocols in place, and become familiar with the environment and tasks associated with the industry allowing them to know if a career in the trade is for them.
At this time, we have positions in
***If a student is currently working in a trades position, they also qualify for this program and the $1,000 grant after 900 hours of work. Click here for more information!
Click here for more information and to apply
Starbucks is looking for Barista! Click here to find your store and more about the positions available!
As a Starbucks barista, you'll create the Starbucks Experience for our customers through excellent service and expertly-crafted products. You'll be in an energetic store environment where you'll have the ability to master your food & beverage craft, work alongside friends and meet new people every day. A cup of coffee and smile can go a long way, and we believe our baristas have the power to be the best moment in each customer's day. True to Our Mission & Values, working together we can inspire and nurture the human spirit – one person, one cup and one neighbourhood at a time.
You'd make a great barista if you:
Consider yourself a "people person," and enjoy meeting others.
Love working as a team and appreciate the chance to collaborate.
Understand how to create a great customer service experience.
Have a focus on quality and take pride in your work.
Are open to learning new things (especially the latest beverage recipe!)
Are comfortable with responsibilities like cash-handling and store safety.
Can keep cool and calm in a fast-paced, energetic work environment.
Can maintain a clean and organized workspace.
Have excellent communications skills.
Click HERE to see what opportunities are available 
Epicure is looking for both temporary and permanent employees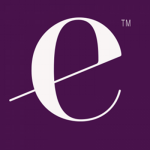 Epicure is your opportunity to innovate, create, and grow. And what's not to love about working on a beautiful 80-acre farm in North Saanich, BC? Join an amazing team, in an extraordinary place, with a very exciting future. Visit www.epicure.com/en-ca/careers for more information or email your resume to www.epicure.com/en-ca/careers
We are looking for awesome people !!

 Click here to view the County Grocer job board to see positions available near you.
Working at Country Grocer you are a team member contributing to our overall goal of exceptional customer service and support of our community. Our Motto is "You'll Feel like Family" which we embody in everything we do – from developing team member-focused policies to renovating our facilities to enhance our customer shopping experience and team working environment, family is always top of our mind.
Click on the logo to explore Thrifty Foods Job Board!

We offer a lot of opportunities for Students deciding what career path to take, helping them build confidence, self-esteem and knowledge in every department.
No experience is necessary, we have a very detailed training program and instore mentors to support all our new hires in the learning processes.
We are looking for Enthusiastic young adults who want to take this path, have fun while learning and helping to make a difference in someone's shopping experience. Most of all especially at this age getting a paycheck in the end during summer break. 
We have a variety of Departments students can work in:
Front end Cashier

Deli,

Bakery

Grocery

Floral

Produce with a Juice Bar

Meat

Seafood

Vitamins / Supplements and Pharmacy
Click on the logos to explore positions available in Victoria!