"Be the change that you wish to see in the world."
― Mahatma Gandhi

There are a million reasons to Volunteer, building your resume, required hours for grad, free training, a cute girl works there…the list goes on. Whatever your motivation, congratulations on making the first step.
I will post some different opportunities for you here weekly, if you have questions or do not see the right position for you, send an email or drop into the career center to see Samantha
Volunteer Victoria is your guide to local volunteering.
Visit the extensive Volunteer Victoria database, sign up for NewsFlash, or contact the Volunteer Victoria office for additional support.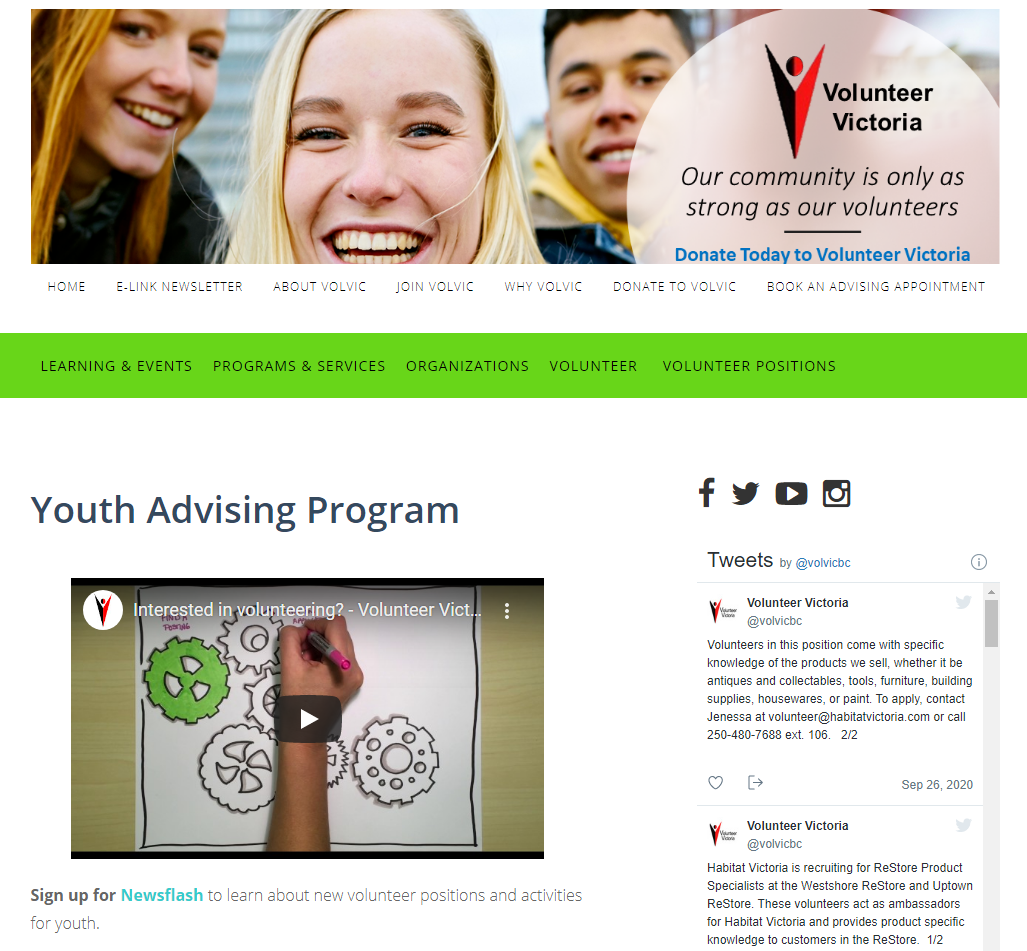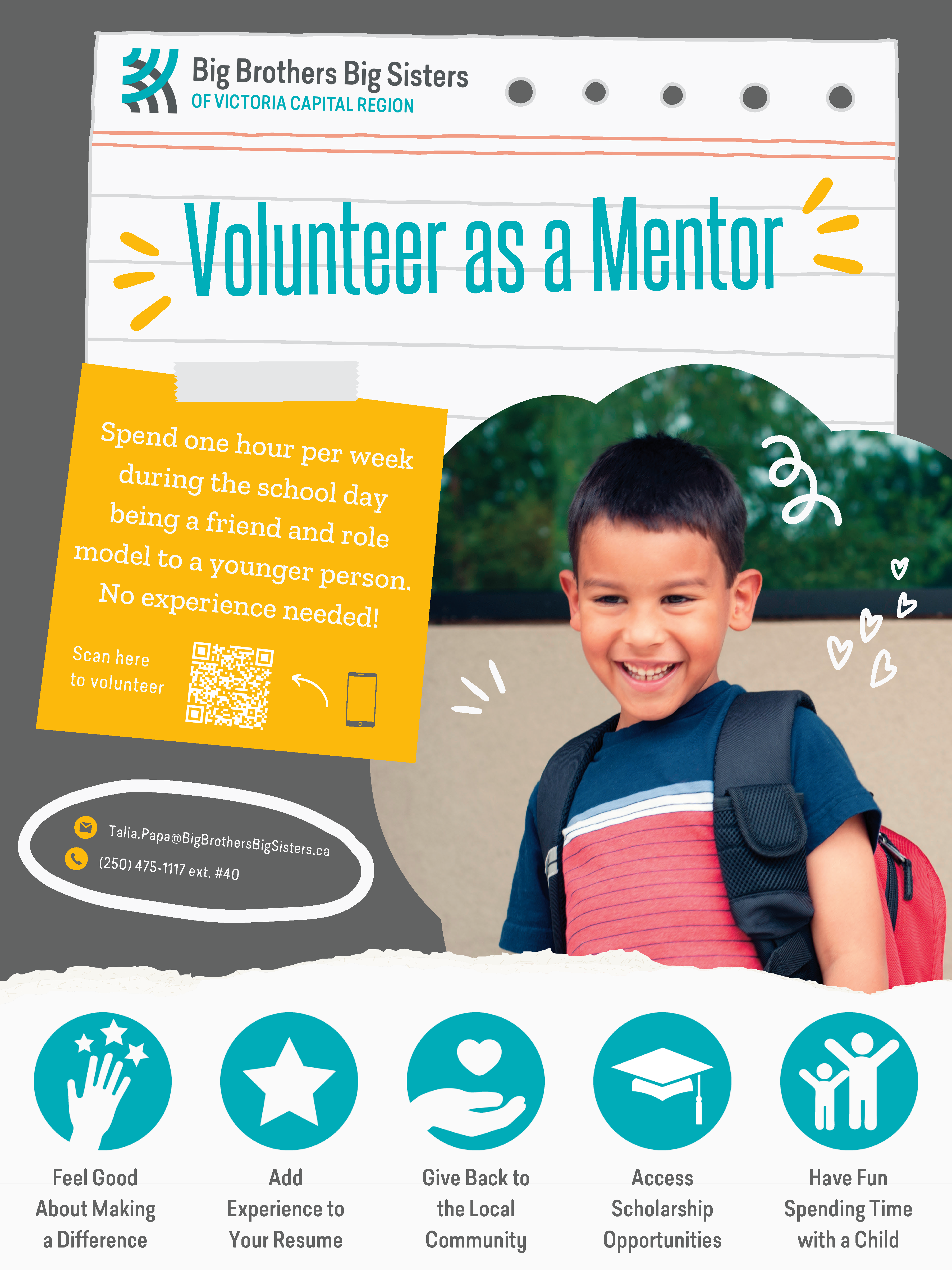 We are looking for teen volunteers, aged 14-18, to be matched with elementary school students for our In-School Mentoring program. Mentors and mentees spend one hour together once per week at school, spending time together and sharing their interests. Our team provides training and support for mentors, as well as activity ideas and supplies for visits. A commitment of one school year is required. 
Visit https://victoria.bigbrothersbigsisters.ca/volunteer-3/ to apply!"
Greater Victoria Green Team
Saturday, November 12
9:45-1 pm
We will be removing invasive English Ivy, Daphne, and other species from this beautiful park! Join us for a fun day of making friends, making a difference, & learning about ongoing restoration efforts in the park!
Please fill in Volunteer Registration if this is the first time you are volunteering with the Green Team: http://bit.ly/2WdZeAT. You only need to fill out this form ONCE.
We will be working rain or shine.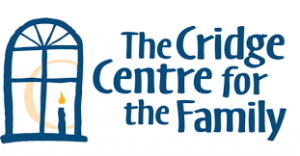 There is a new leadership opportunity for high school students in the Victoria area this 2022-2023 school year. Now more than ever, technology is keeping families and loved ones connected and this program can help facilitate that as well as establish new relationships between different age groups.  We hope to continue helping our seniors learn how to stay involved and informed through technology by learning from our younger generations. We hope you are interested in this opportunity again this school year.
This program is based on the model of a Cyber-Seniors program launched by two high school students in Toronto in 2009 and the documentary they created in 2014, "Cyber-Seniors: Connecting Generations." We are seeking students to visit the center and mentor the seniors who are primarily in their 80s and 90s. The students would connect with and help residents who use computers, laptops and iPads to connect, play games, and read the news, for example. Some students may work with seniors who have never used a computer, iPad or laptop before and help them explore all the wired world has to offer.
We are working with local schools to incorporate this program into their current leadership or volunteer courses and electives, or as a curriculum class for a specific group of students. Students would come to the center to mentor the seniors in short sessions and be paired with a senior for the length of the program, following the interests and abilities of that particular senior.
If you have not heard about the very funny, very heartwarming documentary, we highly recommend it as an introduction to what programing can be like when the technology and social gaps are bridged between seniors and teenagers. Not only do both groups become mentors to each other in different ways but our broader community also becomes stronger by celebrating what these two groups have in common.
If this program sounds of interest to you, please contact us! Tina, The Cridge Seniors' Assistant Manager, and I can arrange a visit to your school to share the incredible full-length documentary or details of our program plans.
Rebecah Burrage
Recreation Coordinator
The Cridge Village Seniors' Centre
phone: 250-220-2303  Fax: 250-384-5267
Victoria Downtown Residents Association – Youth Board member
Are you enthusiastic for making downtown Victoria a resilient and vibrant neighbourhood for all who live here?
We are a hands-on, working Board and expect and look forward to providing orientation and mentorship, especially for a youth member, who would be new to sitting on a Board or even new to volunteering.  The initial commitment for Board members is three hours a month (one evening), with hopefully participation on a Committee for two to six hours a month, or simply assisting in planning or delivering an event or program on an ad hoc basis.
Our Committees include Urban Livability, Urban Ecology and Agriculture, Communications and Membership, Land Use, and Governance.  Recent events include workshops on what it's like to be homeless and on how to be an ally (to Indigenous peoples).  We participate in various festivals (most recently the Christmas market in the Downtown, Wicked Victoria) and have plans to participate in an upcoming event with the Victoria Francophone Society.  We are also the sponsor of the Yates Street Garden.
Connect with Samantha in the Career Center if you are interested in applying.
James Bay Comunity Centre
The James Bay Community Centre has 2 volunteer positions available.
A Volunteer Dishwasher 1-2 hours on Tuesdays, Wednesdays and Thursdays after school to help with their 55+ Dinner Program.
Greeter, Intake, and Packaging for the meals on Tuesdays, Wednesdays and Thursdays  3:15p-4:45p.
If either of these positions interest you, download the Volunteer application form below and contact Susan Traill, the Volunteer Coordinator at James Bay Community School Centre.